Bono y The Edge, líderes de U2, dan un concierto sorpresa en el metro de Ucrania
Fueron invitados por el presidente Zelenski e interpretaron temas tan famosos como «With or without you.»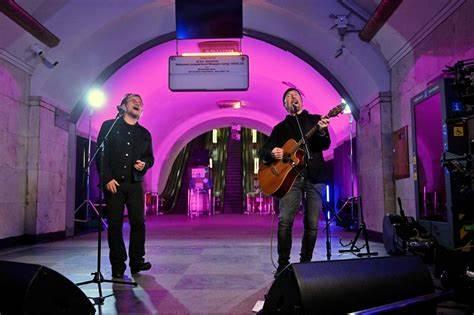 Los líderes de la famosa banda irlandesa, U2, Bono y The Edge, han sorprendido a los ciudadanos ucranianos con un concierto en el metro. Se ha producido tras la invitación del presidente Zelenski con la intención de que sus ciudadanos olviden por un momento la guerra que sufren a causa de la invasión rusa. Concretamente, se ha producido en la estación de metro Khreschatyk donde ambos han interpretado temas como «With or without you», «Sunday Bloody Sunday» o «Angel of Harlem».
«El pueblo de Ucrania no sólo está luchando para su propia libertad, están luchando para todos los que amamos la libertad»
De hecho, uno de los momentos destacables de este inesperado concierto entre sirenas antiaéreas, fue cuando Bono invitó a un soldado ucraniano a interpretar una versión de «Stand by me».
Te puede interesar...