Se cierra el cartel para MadCool 2023!!! Atentos a los artistas definitivos!!!
🔥 YA TENEMOS EL CARTEL COMPLETO🔥
😎 ATENTX A LAS NOVEDADES 😎
The Offspring, Janelle Monáe, Mumford & Sons, Primal Scream, Ava Max,
Morgan, Kevin Morby, Kurt Vile & The Violators, King Princess, Kaleo,
Spoon, Dora, Walls, Night Club, Zetak, Sila Lua, PETTI, Ralphie Choo,
Purple Disco Machine, Christian Löffler, Polo & Pan DJ Set, DJ
Gigola, Boy Bleach, Stacey Ryan, STONE, Picture This, Mimi Webb,
Choclock, Girli, Emotional Oranges, Cold Years, Ghouljaboy, Denis
Sulta, Gerd Janson, AR/CO, ELYELLA, Raye, Peje, Himalayas, Maika
Makovski, Víctor Carré b2b Body-O, Loopi.ta, Armis, Mobox, Álvaro
Valero, Miss Deep'in, Chalkyninenine, DJ Trapella y L.A.S DJs.
💙¡YA SÓLO FALTA ESPERAR A QUE LLEGUE JULIO!💙
Mad Cool Festival 2023 se hará realidad los próximos 6, 7 y 8 de
julio
en nuestra ciudad, Madrid.
¿Estás ready para ver este CAR-TE-LA-ZO?
SI ERES DE LXS QUE AÚN NO TIENEN SU ENTRADA…
NO TE LO PIENSES MUCHO…¡O TENDRÁS FOMO!
COMPRA TUS ENTRADAS EN: madcooltickets.com (
PRECIOS
Abono normal – 189€ + gastos de distribución.
Abono VIP – 480€ + gastos de distribución.
Entrada de día normal – 79€ + gastos de distribución.
Entrada de día VIP – 185€ + gastos de distribución.
Para más información: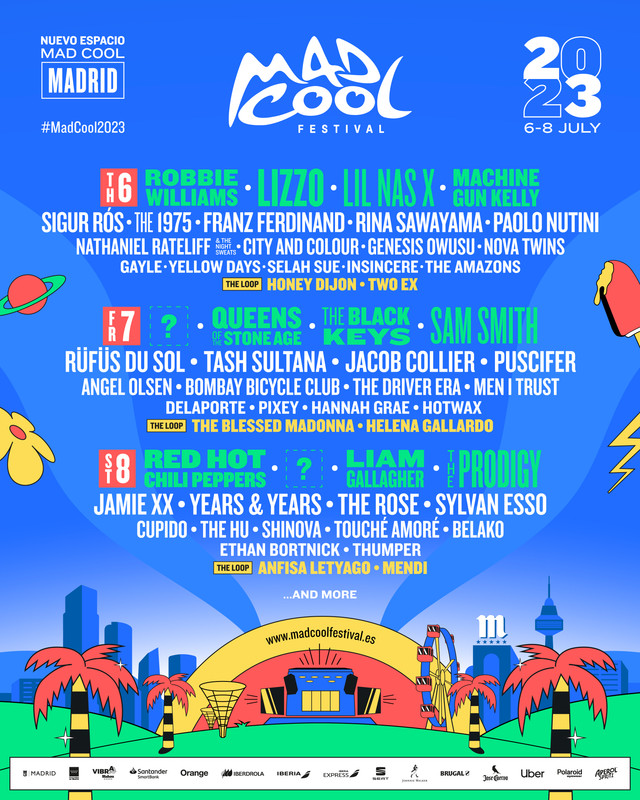 Te puede interesar...